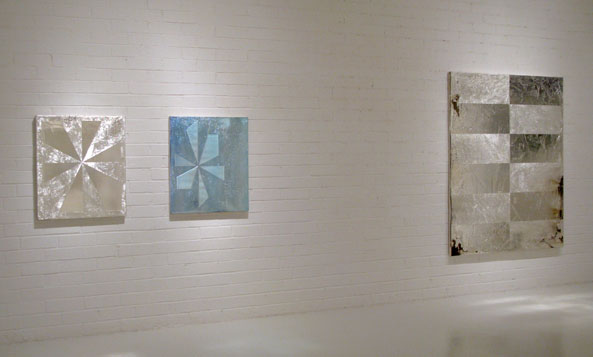 Jimi Gleason
I use paint in a determined way which means the physical and metaphysical force of my paintings
is a direct result of my intuitive process. By finishing with an iridescent surface coat, I inject a certain
presence, bringing the light through, eradicating the very surface.
This creates a depth of visual space that responds to both the play of light and the location of the
viewer. Forms emerge and recede within shifting fields of color as the paintings simultaneously
react to and modify their physical environment. By letting the image gradually evolve through the
painting activity I design the painting to ultimately create a presence in which the viewer is given
the opportunity to explore a dynamic expression of space articulated through color and form.
Jimi Gleason is represented by R.B. Stevenson Gallery, La Jolla, California USA
EDUCATION
| | |
| --- | --- |
| 1985-86 | San Francisco Art Institute |
| 1985 | B.A. University of California Berkeley |
SELECTED SOLO EXHIBITIONS:
2015

SILVER DEPOSIT

, R.B. Stevenson Gallery, La Jolla, CA
2014
Toomey-Tourell Fine Art, San Francisco, CA
2013
Peter Blake Gallery, Laguna Beach, CA
2012
Jimi Gleason,

Silver Deposit Paintings

, R.B.

Stevenson

Gallery, La Jolla, CA
2009
Toomey-Tourell Fine Art, San Francisco, CA
Samuel Freeman, Los Angeles, CA
2008
Peter Blake Gallery, Laguna Beach, CA
2007
Patricia Faure Gallery, Los Angeles, CA
Toomey-Tourell Fine Art, San Francisco, CA
Peter Blake Gallery, Laguna Beach, CA
2006
Liquid Light , R.B. Stevenson Gallery, La Jolla, CA
LewAllen Contemporary, Santa Fe, NM
Peter Blake Gallery, Laguna Beach, CA
Kidder-Smith Gallery, Boston, MA
Patricia Faure Gallery, Los Angeles, CA
2005
Peter Blake Gallery, Laguna Beach, CA
Works on Paper, Philadelphia, PA
LewAllen Contemporary, Santa Fe, NM
Ruth Bachofner Gallery, Los Angeles, CA
Toomey-Tourell Fine Art, San Francisco, CA
2004
Peter Blake Gallery, Laguna Beach, CA
Kidder-Smith Gallery, Boston, MA
Peter Blake Gallery, Laguna Beach, CA
2003
Ruth Bachofner Gallery, Los Angeles, CA
New Urban Art, Phoenix, AZ
2002
Ruth Bachofner Gallery, Los Angeles, CA
1999
Edward Giardina Contemporary Art, Santa Ana, CA
1994
Dakota Studio, New York, NY
1992
637 Gallery, New York, NY
1990
SFA, New York, NY
1988
The World, New York, NY
1987
Clancy Gallery, Costa Mesa, CA
SELECTED GROUP EXHIBITIONS:
2017
"3 Ways," RB Stevenson Gallery, La Jolla, CA
2016
"Psychedelic Tendencies," Melissa Morgan Fine Art, Palm Desert, CA
"California Group," RB Stevenson Gallery, La Jolla, CA
"Strata," William Turner Gallery, Los Angeles, CA
"Continuum," daLosAngeles, Los Angeles, CA
2014

Green Heaven

, R.B. Stevenson Gallery, La Jolla, CA

Now and Then

, LewAllen Contemporary, Santa Fe, NM

Skin Deep

, William Turner Gallery, Los Angeles, CA
2013

20th Anniversary group show

, Peter Blake Gallery, Laguna Beach, CA

THICK,

a group show, R.B. Stevenson Gallery, La Jolla, California. USA

The 10th Circle,

Vast Space Projects, Henderson, NV

Liquid Pop,

Koki Fine Arts, Tokyo, Japan

Winter Group Show

, LewAllen Contemporary, Santa Fe, NM
2012
MIXED MEDIA, a group show, R.B. Stevenson Gallery, La Jolla, California. USA
2011

Winter Group Show

, Peter Blake Gallery, Laguna Beach, CA
2010

Elements of Nature,

Selections from the Frederick Weisman

Art Foundation,

Contemporary Art Center, New Orleans, LA

"JUST ENOUGH"

a group show, R.B. Stevenson Gallery, La Jolla, California USA.
2009
WELL-TEMPERED, A Group Show , R.B. Stevenson Gallery, La Jolla, CA

Royale Projects

, Palm Desert, CA
Peter Blake Gallery, Laguna Beach, CA
The Surface of Space II, Phantom Galleries, Long Beach, CA
2008
2332, Huntington Bach Art Center, Huntington Beach, CA.
Liquid Light, MODAA, Culver City, CA.
Supermarket, Peter Blake Gallery, Laguna Beach, CA.
The Surface of Space, Pharmaka Gallery, Los Angeles, CA
2007
In Focus, Seattle Art Museum, Seattle, WA
Liquid Light,, dba Gallery 256, Pomona, CA
An Eclectic Eye: Selections from the Dan Leach Collection,Tucson Museum of Art, Tucson, AZ
West Coast Abstraction, Peter Blake Gallery, Laguna Beach, CA
ABSTRACT Gallery Selections, R.B. Stevenson Gallery, La Jolla, CA
Pink, Soho Myriad, Atlanta GA
Palette to Palate, Laguna Art Museum, Laguna Beach, CA
REPRISE, R.B. Stevenson Gallery, La Jolla, CA
2006
Abstraction Reduced to White, Peter Blake Gallery, Laguna Beach, CA
One Shot, LA X ART, Los Angeles, CA
Summer Group Show, Peter Blake Gallery, Laguna Beach, CA
Nice Work if You Can Get It, Mandarin Gallery, Los Angeles, CA
Pink III, Arena One Gallery, Santa Monica, CA
Jimi Gleason and Thomas Zitwitz, R.B. Stevenson Gallery, La Jolla, CA
Grey Scale, Peter Blake Gallery, Laguna Beach, CA
2005
Incognito, Santa Monica Museum of Art, Santa Monica, CA
Abstract Los Angeles, Louisiana Tech University, Ruston, LA
Mass {RE}Production, College of Santa Fe, NM
20/20 Visions, I-5 Gallery, Los Angeles, CA
Pink, Patricia Faure Gallery, Los Angeles, CA
Small Works Exhibit, Lew Allen Contemporary, NM
2004
Big & Holy, Cartelle Gallery, Los Angeles, CA
BIG," Toomey-Tourell Fine Art, 511 Harrison, San Francisco, CA
The OsCene, Laguna Art Museum, Laguna Beach, CA
Twentieth Anniversary Show, Ruth Bachofner Gallery, Los Angeles, CA
Ed Moses and Jimi Gleason, Huntington Beach Art Center, Huntington Beach, CA
Abstract Los Angeles, Soho Myriad Gallery, Atlanta, GA
Heavens Gonna Burn Your Eyes, Cartelle Gallery, Los Angeles, CA
Modes and Methods, Contemporary Art Museum, Amarillo, Texas
Pink, Cartelle Gallery, Los Angeles, CA
White on White, Patricia Faure Gallery, Los Angeles, CA
2003
Painting Today, The Art Institute of California Orange County, Santa Ana, CA
9th Annual Holiday Group Show, Ruth Bachofner Gallery, Los Angeles, CA
Black and White, Ruth Bachofner Gallery, Los Angeles, CA
SOULdiers, SCA Gallery, Pomona, CA
Art X, Long Beach Museum of Art, Long Beach, CA
2002
No Pictures Here-Non-Objective Painting from Los Angeles, dA Center For The Arts Pomona, CA
California Dream, Museum I Magli, Sarezzo (Brescia), Italy
California Dream, Museum Forno Fusoria, Tavernole (Brescia), Italy
Minimal Works, ANDLAB Gallery, Los Angeles, CA
8th Annual Holiday Group Show, Ruth Bachofner Gallery, Los Angeles, CA
2001
Rising Tide, Southern California Abstraction 2001,
Orange County Center for Contemporary Art, Santa Ana, CA
Group Show, Irvine Fine Arts Center, Irvine, CA
7th Annual Holiday Group Show, Ruth Bachofner Gallery, Los Angeles, CA
2000
10 Degrees of Abstraction, Biola University Gallery, La Mirada, CA
Emulsion, POST, Los Angeles, CA
Group Show, Andrew-Shire Gallery, Los Angeles, CA
Black and White, Splendid, Brooklyn, NY
Nice work if you can get it, Holly Matter Contemporary Art, Los Angeles, CA
SELECTED BIOGRAPHY:
2014
Square Cylinder,

Jimi Gleason at Toomey-Tourel

l, David Roth, May 2104
2011
Square Cylinder,

Jimi Gleason at Toomey-Tourel

l, David Roth, September, 2011
San Francisco Chronicle,

Gleason tilts between fresh, flash

, Kenneth Baker, September 2011
Los Angeles Times,

A Cornucopia of Delights

, David Pagel, April 2011
2010
OC Arts & Culture,

The Art of Chromatics

, Roxana Vosough, November 2010
Riviera Magazine,

Chromatics

, Daniella Walsh, November 2010
OC Arts & Culture,

Artist Spotlight: Jimi Gleason

, Roxana Vosough, November 2010
Pasatiempo,

Visions that vary by Vantage

, Michael Abatemarco, February 2010
Orange Coast Magazine,

Artist Spotlight

, Anastacia Grenda, January 2010
2009
San Diego Union-Tribune,

Quartet of soloists at La Jolla gallery

, Robert Pincus,November 2009
San Francisco Chronicle,

Jimi Gleason at Toomey-Tourell

, Kenneth Baker, October 2009
ArtSlant, Los Angeles.

West/East

, Stacy Davies, April 2009
2008
ArtScene, 2332, Vol. 28, No. 3, November 2008
2007
San Francisco Chronicle,Rough around the Edges, September 2007
Art Ltd. Magazine, Artist Profile, September 2007
Orange County Register, Shades of Grey, January 2007
Boston Globe, Centering techniques, January 2007
Riviera Magazine, No Colors Anymore, January 2007
2006
Orange County Register, Bold reflections of nature and light, September 2006
San Diego Union-Tribune, Daydreamers, June 2006
2005
Los Angeles Times, Liquid Light, December 2005
Orange County Register, Artist see white, December 2005
Coast Magazine, OC's Blue Chip Artists, October 2005
The Philadelphia Inquirer, The Layered Look comes to Color Field Painting, August, 2005
Where Magazine, Orange County, Summer 2005
OC Metro, Gallery Row, Fine Art After hours, March 15, 2005
2004
Catalog, Big & Holy, Cartelle Gallery, Los Angeles, CA, 2004
Orange County Register, Elegance in the Abstract, Visual Art, Show, October 1, 2004
Los Angeles Times, Inaugural Exhibition, Calendar, May 2004
2003
Artweek, Jimi Gleason at Ruth Bachofner, November 2003, Volume 34, Issue 9
Phoenix New Times, Los Angeles Painter at New Urban Art, March 2003
2002
Catalog, California Dream, Museum Forno Fusoria, Tavernole (Brescia), Italy, 2002
1994
Los Angeles Times, Local, April 1994
SELECTED COLLECTIONS:
| | |
| --- | --- |
| | Glenn Schaeffer, Las Vegas, NV |
| | Sun America / Kaufman Broad Home Corporation, Los Angeles, CA |
| | Larry Bell, Venice, CA |
| | Frederick R. Weisman Art Foundation, Los Angeles, CA. |
| | The Dan Leach Collection, Tucson, AZ. |
| | Dakota Studios, New York, NY |
| | The Voit Companies, Newport Beach, CA |
| | The MGM Grand, Detroit, Michigan |
| | Tony Venegas, Los Angeles, CA |
| | Howard and Jan Hendler, Phoenix, AZ |
| | Dominic and Jennifer Surprenant, Malibu, CA |
| | Grant LeDuc, New York, NY |
| | Rick Gennett, West Chester, PA |
| | Beryl Cowley, Beverly Hills, CA |
| | Dave and Marion Peterson, Minneapolis, MN |
| | Pietro Monopoli, Pavia, Italy |
| | Heather Harmon, Santa Monica, CA |
| | Mitch Coodley, New York, NY |
| | Kenneth and Guadalupe McKenzie, Brooklyn, NY |