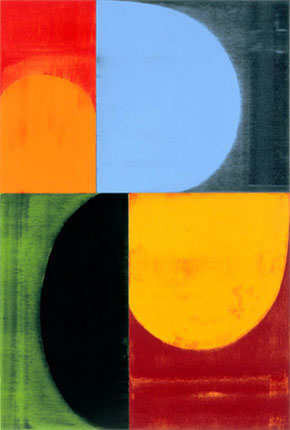 Charles Arnoldi
I was born in Dayton, Ohio, in 1946 and came to California after graduating from high school in 1964. I spent a couple of years doing odd jobs and in 1967 I attended Ventura Junior College for about three semesters. After leaving there, I went to Art Center School in Los Angeles for two weeks, quit and enrolled at Chouinard and lasted there about eight months.
I won the Young Talent Award from the Los Angeles Country Museum in 1969. At that time I was making Plexiglas and sprayed-lacquer paintings. I went on to do work in latex, rubber and string, bamboo and rope, resin and fiberglass and sheets of polythylene heat-sealed together with powdered pigment and powdered metal in them. In 1969, I made the first stick piece.
Charles Arnoldi
Charles Arnoldi has been making art work for over forty years, first achieving major acclaim in the 1970's. A decade later he had established himself as one of the most prominent painters working in southern California. Arnoldi's work resides in numerous collections and museum throughout the United States, including the Museum of Modern Art, the Metropolitan Museum of Art, The Los Angeles County Museum of Art, the Smithsonian American Art Museum, and the Guggenheim, Bilbao, Spain.